Farmer-Herder Clashes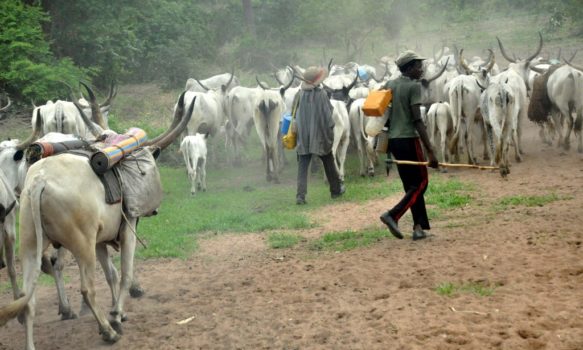 An emergency joint District Security Council(DISEC) meeting is expected to be held later today as part of measures to resolve protracted farmer-herder clashes in some parts of the Ashanti Region.
It comes after two separate attacks on cattle-herders left three herdsmen and several cattle dead last week at Samso near Drobonso in the Sekyere Afram Plains district of the Ashanti Region.
The farmer-herder clashes follow the murder of the security man of a local plantation firm at Agogo earlier this month. There are fears the attack on the herdsmen could be retaliation by the farmers who suspect the security man was killed by the nomadic herders.
DCEs for Kumawu, Sekyere Afram Plains, Asante Akyem North and Sekyere Central the worst affected assemblies, are expected to attend this meeting.
The deliberations and outcomes of the meeting are to be reported to the Regional Security Council (REGSEC).
Police search for suspects
Meanwhile police in the Ashanti Region are on a manhunt for some persons who allegedly attacked and killed the three herdsmen and are appealing to the public for information.
Effiduase Divisional Police Commander, ACP Philip Asante said two of the deaths were recorded on Thursday morning after unidentified gunmen attacked the herdsmen and their cattle at a camp in the bushes of Samso, killing two on the spot.
The bodies have been identified by the nomadic herdsmen community in the Ashanti region.
"We are putting things together and we've gone to the scene. The case is under investigation. We want to find out who did that action and bring the person to book."
He said the bodies of the deceased have been deposited at the Agogo Presbyterian Hospital morgue for autopsy and investigations.
Scanfarms Ghana appeals for protection after herdsmen allegedly killed employee
The management of Scanfarms Ghana Limited had earlier appealed to the government to provide it with security following the alleged murder of one of its employees, a security guard.
Management and staff of the company were left traumatized and terrified after the stabbing of the security guard earlier in January 2019 by some herdsmen.
The Head of Administration at Scanfarms Ghana Limited, Edward Gyebi in an interview said the company is currently helpless.
"Currently we are all frightened. No one can go there because we are wondering who will be the next. We can't go there but it is our farm. We don't know whether to lay off the workers because no one wants to go there. The security men are all down. We are harvesting our Sorghum now so now who will go and harvest it. It is about 105 hectares," he said.
What do you think about this piece? Share your comment in the comment thread and share the story using the social media buttons above. You may reach the editor on 0249579664.  Thank you.