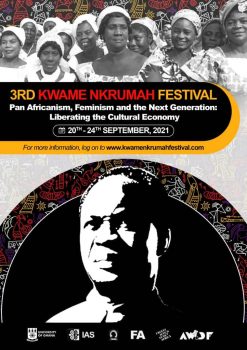 All is set for the 3rd Kwame Nkrumah Pan-African Intellectual and Cultural Festival.
The event, scheduled for Monday, 20th- Friday, 24th September 2021, will be preceded by a 3-day youth and film festival from 15th-17th September .
The theme for this year's event is "Pan Africanism, Feminism and the next Generation: Liberating the Cultural Economy".
This year's festival sets out to showcase and celebrate the beauty, ingenuity and creativity of African cultural Production and provide a vibrant transgenerational platform for intellectual debate on the kind of cultural and economic architecture required to turn Africa's material and cultural resources into decent livelihoods and wellbeing for African people.
The event will be digitally curated and streamed live over the internet for the first time.