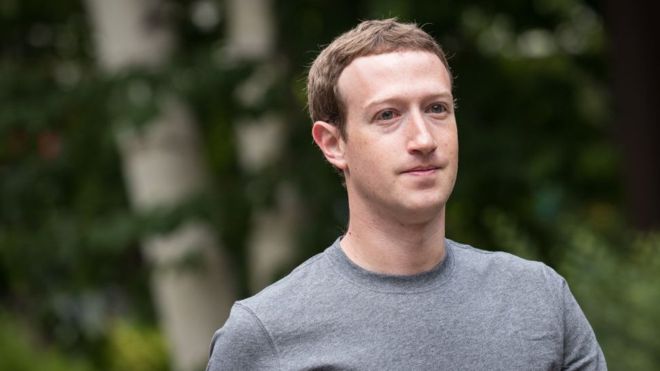 Facebook is to change how its news feed works, making posts from businesses, brands and media less prominent.
Instead, content that sparks conversations among family and friends who use the site will be emphasised, explained chief executive Mark Zuckerberg on his page.
Organisations on Facebook may see the popularity of their posts decrease as a result, the firm acknowledged.
The changes will take effect over the coming weeks.
"We've gotten feedback from our community that public content – posts from businesses, brands and media – is crowding out the personal moments that lead us to connect more with each other," wrote Mr Zuckerberg.
He said that he and his team felt a responsibility to make sure Facebook was good for people's wellbeing.
If public content is to be promoted, it will now have to be seen to encourage community interaction – as happens within the tight-knit groups that discuss TV programmes and sports, he said.
Another example given by Facebook in a separate post was live video feeds, which tend to generate much discussion.
"By making these changes, I expect the time people spend on Facebook and some measures of engagement will go down," added Mr Zuckerberg.
"But I also expect the time you do spend on Facebook will be more valuable."
In a previous post, Mr Zuckerberg had vowed to "fix" Facebook in 2018, saying he wanted to ensure that users were protected from abuse and that time spent on the site would be time well spent.
He also pledged to defend Facebook from nation states.
Analysis has recently suggested that some actors, including Russia, have tried to manipulate content on the social network.
"It's definitely a significant change," said Laura Hazard Owen at Harvard University's Nieman Journalism Lab.
"It's going to affect publishers a lot, we're going to be seeing a lot less news organically pop up in our news feeds."
Ms Owen added, however, that Facebook had not been very clear about what sort of discussions the site's revamped algorithms would prioritise.
It might end up being "the most controversial stuff" that generates heated conversations, she suggested, or simply content pulled in from group pages where users engage with others on specific topics.
Powerful 'admission'
Given recent public scrutiny, the social network was currently "in the hot seat", said Gabriel Kahn from the University of Southern California Annenberg School for Communication and Journalism.
"Facebook is in the midst of all of these fires it's trying to put out, it's trying to reassert its warm and fuzzy brand value that it has always tried to put forth," he told the BBC.
Mr Kahn added the update from Mr Zuckerberg was a "clear admission" that Facebook wielded significant power over the health of society.
However, he argued that the new priorities could further distort views and the nature of conversations.
"There should be public debate about the values they're applying to that algorithm," he said.
Source-BBC