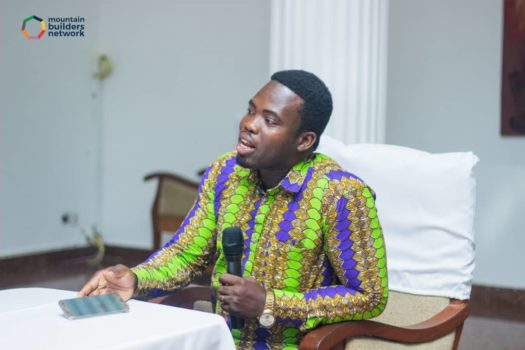 Bernard Elikem Buachi is a journalist and media entrepreneur with some thirteen years of journalism experience under his belt.
He had his Broadcast journalism training from the Radio Broadcast Development Foundation (RABODEF) under the tutelage of Tommy Annan Forson, Charlie Sam, Sammy Forson, Rayborn Bulley and a host of other experienced journalists.
He has served as News reporter, Radio news Anchor, Editor and Morning show host on various radio stations including Classic FM(Techiman), Asta FM (Techiman), Focus FM(Kumasi), and Ultimate Radio(Kumasi). He has also managed Winners FM in Techiman.
Aside his radio career, Bernard has written articles on a wide array of subjects for various newspapers and online news portals including ghanaweb.com, myjoyonline.com, peacefmonline.com, classfmonline.com, otecfmonline.com among a host of others. He also moderates and MCs a lot of programs.
He has served as Municipal PR Officer for the Techiman Municipal Assembly.
He currently owns and runs two online news portals rawgist.com and ghanagong.com and is a regional Executive of the Ghana Association of Writers (GAW). He is also an active member of the Human Rights Defenders; a subsidiary of the Africa Center for International Law and Accountability (ACILA) that comprises a network of journalists who strive to defend the human rights of victims of abuse and the Ghana Agriculture and Rural Development Journalists Association (GARDJA)
He has and continues to work closely with such entities as the Bulk Oil Storage and Transport Company (BOST), Kuapa Kokoo Farmers' Union (KKFU), Millennium Promise Alliance (MPA) , the Ghana Chamber of Agribusiness, Mountain Builders Network (MBN) and MTN.
Bernard, a graduate of Agriculture from the Kwame Nkrumah University of Science and Technology (KNUST), also wields a single subject Advanced Diploma in Human Resource Management from the Institute of Commercial Marketing (ICM)-UK.
Bernard Elikem Buachi who was recently awarded by the United Clergy International Association  (UCIA) in recognition of his "Outstanding performance in Radio, Newspaper and Internet Journalism", is married to an amazing woman with whom he has a son.
What do you think about this piece? Share your comment in the comment thread and share the story using the social media buttons above. Thank you.