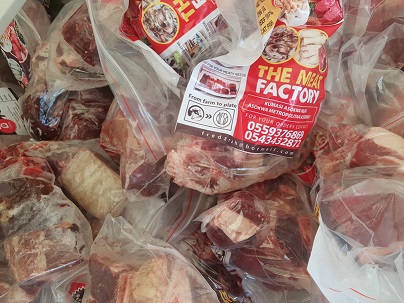 Bent on making great difference in the local meat processing and supply industry, The Meat Factory is a meat producer committed to producing and supplying the best quality meat at the most affordable price.
The company began operations in August 2019 and is headquartered at Asokwa in Kumasi.
The Meat factory owns and operates five (5) ranches within the Ashanti region as well as fish ponds. They typically produce beef, sheep meat (Lamb, hogget, and mutton), Goat meat, Local Chicken, Rabbit, catfish and Tilapia. They also produce meat products including fresh milk and eggs.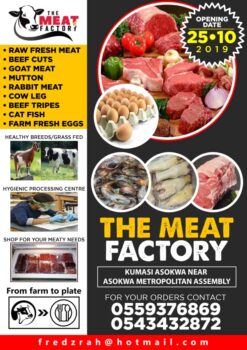 Health and hygiene are the watchwords on all the Meat Factory ranches and outlets. Health of the animals and staff are prioritized highly at the Meat Factory. With a Medical Doctor as the Chief Executive Officer and on site veterinary Officers, the Meat Factory has its sights set on bridging the protein deficit in the country and guaranteeing the health and safety of meat lovers.
The company produces all types of meat cuts for international clients, hotels, restaurants and shopping outlets and has opened her doors to all meat lovers with special tastes in meat.
Currently, the meat factory produces the freshest and most affordable meat as well as animal products in the Ashanti region.
The company has within a few months in operation started doing Corporate Social Responsibility projects to ensure that the community benefits from the company's existence. The Company has assured that it will prioritize environmental sustainability and CSR in all her dealings.
What do you think about this piece? Share your comment in the comment thread and share the story using the social media buttons above. You may reach the editor on 0249579664.  Thank you.