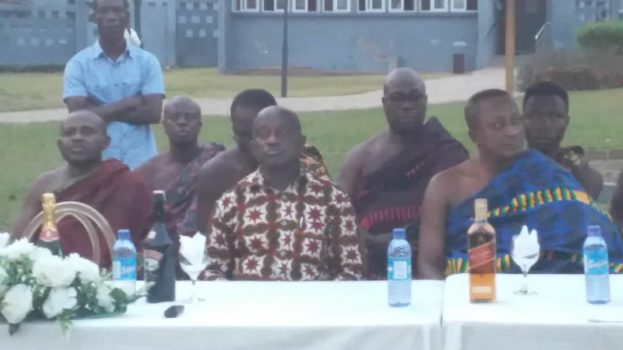 The Ashanti Regional Branch of the Ghana Journalists' Association(GJA) Friday launched the maiden Ashanti Journalists' Awards.
The event held at the Rattray park in Kumasi brought together media practitioners from various media houses within the Ashanti region.
It was on the theme The media's mandate in fostering sustainable environmental sanitation.
Chairman for the occasion; Mr. Simon Osei Mensah stressed the importance of the media to nation building. He encouraged journalists to report the truth and stand by the truth. He however decried concoction of malicious stories and went ahead to cite some of such stories targeting him. He says a badly considered news item could do great damage and advised journalists to verify stories before publishing and also accept mistakes and apologise when they go wrong.
The Ashanti regional Minister promised that his outfit will sponsor one award category as a way of boosting quality journalism in the region.
Bantamahene; Baffour Owusu Amankwatia VI who was Guest of Honor at the event decried poor treatment meted out to journalists in Ghana. He lamented how many journalists are "used and paid a pittance". He appealed to the media to champion worthy causes and suggested that sanitation related issues be brought to the front burner.
Director of Sanitation at the Ministry of Sanitation and Water Resources stressed the important role the media plays in shaping societal attitudes as far as sanitation is concerned. He stressed the enormity of the sanitation problem and also outlined several projects being undertaken by the government towards solving the sanitation problem.
The event also served as an excellent platform for journalists to interact with each other and socialize.
What do you think about this piece? Share your comment in the comment thread and share the story using the social media buttons above. You may reach the editor on 0249579664.  Thank you.