Call 0249579664 for your supply of COA FS
There has been a mad rush for locally manufactured powerful immune booster dietary supplement; COA FS after the manufacturer Prof. Samuel Ato Duncan (H.C.) addressed a press conference in Accra recently.
During the Press Conference, the Executive President of the Centre of Awareness (COA FS) Global Peace Mission, Prof. Samuel Ato Duncan (H.C.), called on the government to assist with scientific confirmation of the potential of the supplement to suppress COVID-19 to boost national preparedness to prevent an outbreak of the disease in Ghana.
He revealed that samples of COA FS products sent to China about two weeks ago to be tried on some COVID-19 affected persons were yielding positive results.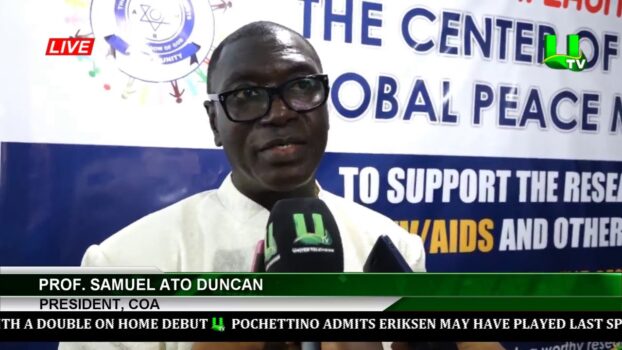 Call 0249579664 for your supply of COA FS
"We sent some COA FS products to China just about two weeks ago to try on coronavirus patients and information reaching us indicates that there has been a significant improvement in the condition of some infected patients who were given COA FS products. Even though it is good news, to us it is not scientific, hence not conclusive," he explained.
Since that day, demand for the product has shot up resulting in reported shortages throughout the country.
ghanagong.com investigations reveal that some people wake up very early to await supplies of the product either for their own use or to be sent to relatives in other countries affected seriously by COVID-19.
With the number of cases rising gradually, the situation may persist for sometime.
Call 0249579664 for your supply of COA FS