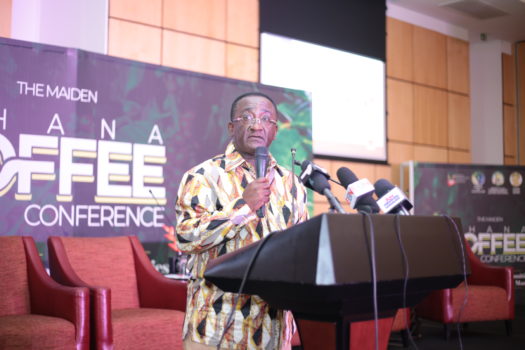 Ghana Agriculture News-A strategic plan for Ghana's Diversification into Coffee Production has been launched at in Accra.
The five-year plan was explained to local and international experts in various aspect of the coffee value chain at the maiden Ghana Coffee Conference held at the Marriot International Hotel.
President of the Coffee Federation of Ghana (CFG); Chief Nathaniel Ebo Nsarko in his welcome address said all factors for successful coffee production favor Ghana and decried the over-dependence on cocoa.
He believes that coffee is "Ghana's next big thing" and explained the huge potential of coffee towards the revamping of Ghana's agriculture and economy.
Chief Nsarko, who is also Country Director for Millennium Promise Alliance (MPA) explained that as part of Ghana's Diversification Plan, Model Coffee Farms spanning two thousand Hectares will be established to among other things serve as a learning resource for would-be coffee farmers and also boost Ghana's coffee situation.
He emphasized that the model farms form part of a bigger plan called "Investing in the future Ghana Coffee (IFGC); a plan he says will involve at least two thousand (2,000) farmers and provide jobs for not less than thirty-eight thousand (38,000) people.
He adds that the project is expected to produce about fifty thousand (50,000) tonnes of Robusta coffee that will rake in some six hundred Million Dollars (US$600M) for Ghana annually.
The project which started this year, is expected to end in 2023 by which time, a sustainable coffee production system with its concomitant marketing structure structures would have been well developed.
The first ever Coffee conference in Ghana drew experts from all over the world including representatives from Lavazza, the International Coffee Organization, the Inter-Africa Coffee organization, the Global Coffee Platform, Millennium Promise Alliance (MPA), Diplomats amongst others.
Also in attendance were the Minister for Food and Agriculture; Dr. Afriyie-Akoto and the Deputy Minister for Local Government and Rural Development; Collins Ntim.
About Coffee Federation of Ghana
The Coffee Federation of Ghana (CFG) is an independent, not-for-profit organization incorporated under the laws of Ghana. The Federation grew out from the need for a unified national body to speak with an authoritative voice for the coffee sector value chain actors in Ghana.
The CFG is composed of representatives of companies operating at the various points in the Ghanaian coffee value chain mainly producers, processors including roasters and hullers, retailers, exporters, and consulting companies. The CFG is hosted by the Millennium Promise Alliance (MPA) office in Accra.
CFG seeks to explore business and investment opportunities for the member companies through partnership arrangements and business support services.
Since its formation, the Federation has undertaken a number of initiatives including:
Mapping of the coffee value chain actors in Ghana
Hosting of Pinhalense visit to Ghana
Coffee Federation working visit to Pinhalense headquarters in Brazil
Engagement with Key Stakeholders in Government and the private sector
Engagement with LAVAZZA
Drafting of Coffee Roadmap
What do you think about this piece? Share your comment in the comment thread and share the story using the social media buttons above. Thank you.