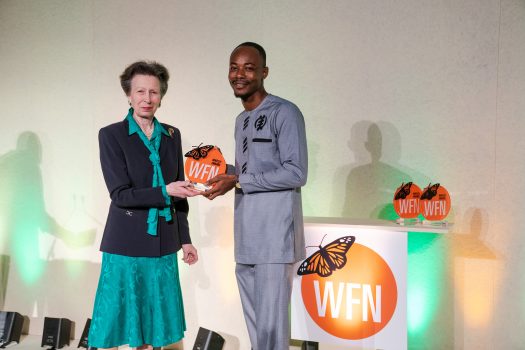 Ghanaian conservationist, Emmanuel Amoah, has received a Whitley Award from UK wildlife conservation charity, the Whitley Fund for Nature. He is galvanising communities to restore nesting habitat for the Critically Endangered West African slender-snouted crocodile, known locally as the "river god".
The West African slender-snouted crocodile is one of the world's rarest reptiles, having declined by 90% in 75 years due to degradation of nesting riverbanks, hunting and domestic water pollution. The Whitley Award will help Amoah to reduce habitat loss by 40% in 4 communities, train 14 local conservation champions to deter illegal logging on riverbanks and restore 30ha of nesting sites for this Critically Endangered crocodilian.
Whitley Awards are world-leading prizes for wildlife conservation. On Wednesday, 27 April, they were presented by WFN Patron, HRH The Princess Royal, to six grassroots conservationists pioneering solutions to the biodiversity crisis, live streamed to YouTube.
With one million species at risk of extinction and warnings of inextricable links between biodiversity loss and climate change, Whitley Award winners will help accelerate their breakthrough work to reverse declines in species from red pandas to sea turtles.
The West African slender-snouted crocodile is already feared extinct in many range countries including Nigeria, Togo, Benin, and Senegal. The Techiman-Tanoso stretch of the Tano River in Ghana, where Amoah works, is home to a crucial group of 400 individuals – the highest known population outside a protected area.
Indigenous communities' cultures are closely linked to the ecosystem and aquatic animals; when a slender-snouted crocodile dies, befitting burials are organised as a sign of respect to the river god. With a highly unique genetic history, extinction of the species will mean the loss of both evolutionary and cultural heritage.
Amoah founded the Threatened Species Conservation Alliance (THRESCOAL) to safeguard the slender-snouted crocodile's refuge and has already reduced vegetation loss and illegal logging. Building on this success, with his Whitley Award Amoah will recruit volunteers to prevent further habitat disturbance and replant degraded nesting sites. His project integrates science, grassroots action and traditional beliefs, engaging at least 20,000 people to protect one of the world's rarest reptiles and improve freshwater security.
Danni Parks, WFN Director said: "Emmanuel is a true grassroots environmentalist. He has identified a crucial West African slender-snouted crocodile population; a Whitley Award will enable him to expand his successful work embedding conservation into surrounding communities to bring this reptile back from the brink."
What do you think about this piece? Share your comment in the comment thread and share the story using the social media buttons above. You may reach the editor on 0249579664. Thank you.