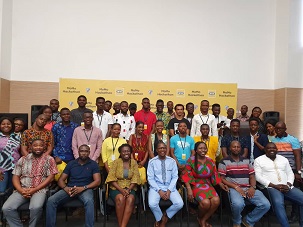 In yet another exciting challenge, MTN MoMo and Ericsson cemented their intent to unlocking the local innovation potential of the continent at the just ended MoMo Developer Hackathon.
CodeFount, a team of young app developers picked up the ultimate prize of USD 2500 and a trip to Sweden for one team member to visit Ericsson's Innovation Center after their innovation My Contributions' App' was adjudged winner.
The winning app has been designed to allow members of social groups like churches, staff teams and alumni groups to make, track and aggregate contributions on one platform.
Telebank, a virtual assistant Chabot which enables customers to perform transactions through text or voice was adjudged the first runner up. The app which was developed by Zero Stress enables seamless interaction between your bank account and your MTN MoMo wallet. They took home a cash prize of USD2000.
Farm Financing App, is a crowd-funding platform aimed at supporting small holder farmers. The platform leverages alternative data to determine the creditworthiness of these farmers. Once the farmer qualifies for the credit, the funds are disbursed to their MTN MoMo wallet. The project was adjudged as Third Best and the team received a cash prize of USD 1500.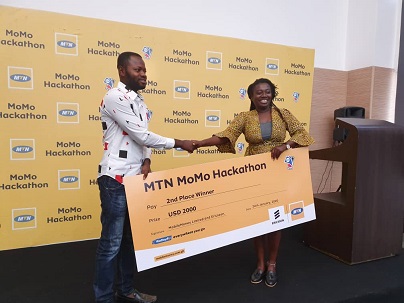 During the awards presentation ceremony, the Commercial Senior Manager of MTN MoMo, Abdul-Majeed Rufai, congratulated the winners for their creative approach to solving local problems using mobile applications. He reiterated MTN MoMo's commitment to availing its infrastructure to developers in competitions such as the MoMo Hackathon, to stimulate local innovation and democratize monetization of local innovations. He noted that this will help the youth to find gainful employment through community transforming innovations.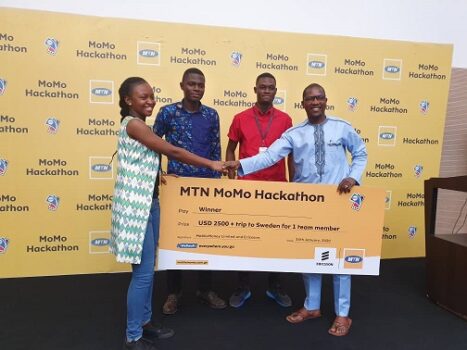 Commenting on the outcome of the challenge, Serigne Dioum, MTN Group Executive for Mobile Financial Services said; "I am very pleased about our inaugural MoMo Hackathon, which highlighted the depth of talent among our developer community. Tapping into this talent will help us make unique solutions that are tailored for customers in our operations and contribute to driving financial inclusion in our markets."
Nicolas Blixell, Vice President at Ericsson Middle East & Africa said: "Innovating and cultivating a culture of nurturing talent are two areas of priority for Ericsson. We take pride in the fact that in collaboration with our partner MTN Group, MoMo Hackathon provided a platform for local talents to showcase their solid potential to address substantial social and business needs."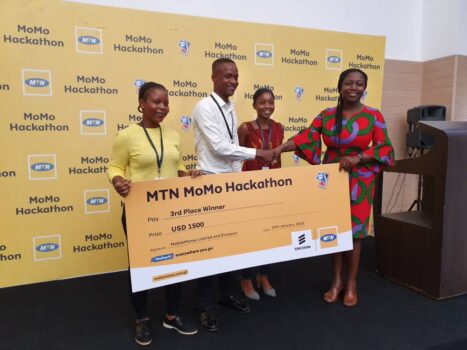 MTN and Ericsson Mobile Money Open API challenge was launched in October 2019 and ended on 24 Jan 2020. Over 1000 entries were received from the participating countries. Developers were required to create applications that use MTN MoMo APIs, to monetize both consumer and Business opportunities digitally. The challenge which is an initiative of MTN Group was organized across 5 countries namely: Ghana, Uganda, Cote d'Ivoire, Cameroon and Zambia.
What do you think about this piece? Share your comment in the comment thread and share the story using the social media buttons above. You may reach the editor on 0249579664.  Thank you.