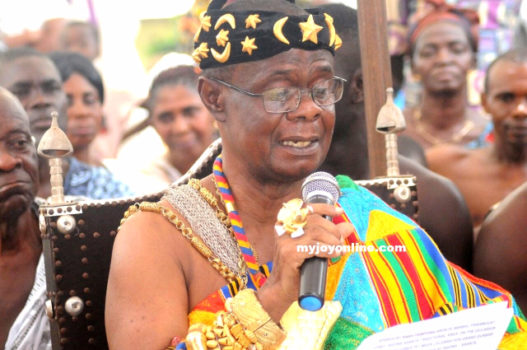 The 13-year reign of Nana Anokye Frimpong, Omanhene of Agona Traditional area in Ashanti has come under scrutiny by some concerned youth of the area.
The youth drawn from Agona, Akrofonso, Bepoa, Wiamoase, Kofiase, Bedomase and Afamanaso, has called for the abdication of their chief.
A statement issued at Agona and jointly signed by Coordinator Kofi Agyermang of Agona, Organizer Nana Afari of Afamanaso/Bedomase and Executive Member Osei Boateng of Wiamoase respectively, has given the chief a one-week ultimatum to step down in his own interest by Monday January 21, 2019.
They have not assigned any reasons for the call and explained that reasons would be assigned at the appropriate time after the one-week period has elapsed hoping that the embattled Omanhene would take their kind advice in good faith.
The youth leaders alluded to their alleged sorrows, pains and agony that has characterized the reign of Nana Anokye Frimpong Ababio, ever since he occupied the Okomfo Anokye Amoampong Stool the past 13 years.
Nana Frimpong Anokye Ababio (formerly known as Dr. Daniel Kwasi Berkoh) was born in Ghana in September 1942. He holds a BA (Hons) in Geography from the University of Ghana, Legon. He obtained a Master of Arts (Geography), with specialisation in Economic Geography, from University of California (UCLA), USA in 1970. He further went on to obtain an MPhil and PhD (Geography) with specialization in Location Theory and Planning from Columbia University, USA, in 1974. In 1985, he obtained a Diploma in Economic Development Planning from The University of Tashkent, USSR.
Nana Anokye Ababio has extensive experience in both the public and private sectors of the economy. He is a member of the National House of Chiefs and an Adjunct Lecturer at GIMPA. He remains the chairman of the Finance Committee of the National House of Chiefs, a position he has held since 2013.
Nana Frimpong Anokye Ababio has contributed immensely to Ghana's economic growth and development through his extensive participation as chairperson/member of several boards and committees of national importance over the past four decades. He served as – Director, Land Valuation Board (1988-1998); Director, Administration and Finance Committee, West Africa Examination Council (1982-1995); Director, Science and Policy Research Institute (1994-2002); Director, Central Regional Development Commission (1992-1997); Director and Head, Multilateral Sector, Ministry of Finance (1993-2000); Director, Policy Planning, Monitoring and Evaluation Division, Ministry for Private Sector Development (2001-2002).
Nana has also served in varying capacities on several national steering committees. He was the Chairman, National Poverty Reduction Programme Management Board (1996-2000); Chairman, Steering Committee of the Renewable Energy Services Programme (1998-2000); Member, National Technical Advisory Committee on 2000 population census (1997-2000); Member, Ghana National Committee on Agenda 21 for Sustainable Human Development (1995-2000); Member, Technical Committee on National Employment Policy (1994-2000); Chairman, Ghana National Fire Service Council (2007-2009). He was a Dean of Students at GIMPA from 2004 to 2008.
Nana Frimpong Anokye Ababio is an expert subject advisor on Public Finance Management and a thought leader on Management, Capacity Building and Leadership. He has extensive research experience having written and published several papers on Economic issues, Geography and Leadership. He is also a distinguished honorary member of The Research Board of Advisors, The American Biographical Institute and a Distinguished Fellow of the Distinguished Scholars of Africa.
But his rich background notwithstanding, the youth of the area say they want him to stay clear of the Agona stool in his own interest assuring that they (youth) will give tangible reasons for their position.
What do you think about this piece? Share your comment in the comment thread and share the story using the social media buttons above. You may reach the editor on 0249579664.  Thank you.