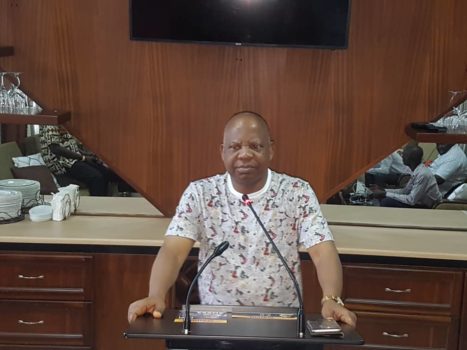 Ghana Religion News-The General Overseer of the Calvary Charismatic Center (CCC), Reverend Ransford Obeng says God has not abandoned the use of prophets to speak to his people or nations.
Despite some prophets doing controversial and unorthodox things in the offices they claim to occupy, Reverened Obeng noted God still uses genuine prophets to speak to nations.
Addressing the media in Kumasi on Monday ahead of an upcoming spiritual empowerment program from this Wednesday to Sunday, Reverend Obeng extolled the virtues of Eastwood Anaba, a revivalist and head of Fountain Gate Chapel in Bolgatanga.
The CCC leader said the Bolgatanga-based man of God has been specifically commissioned by God to cause revival in the church of Ghana.
''I sincerely believe Reverend Eastwood Anaba is a Prophet of our time and has been specifically assigned to the body of Christ to give us a sure word for the present conditions we are in as a Nation and as a people'', Reverend Obeng passionately stressed.
DIFFICULTIES:
The CCC Founder revealed that God in his own wisdom gives his people directions anytime they are faced with difficulties.
These directions, he noted initially came from Prophets of God who during difficult times solicited for help from God regarding pressing matters.
Ghana, Reverend Obeng intimated is faced with many difficult challenges including uneasiness in its banking sector.
These difficult times, the servant of God disclosed requires the direction and prayers of God's servants.
''Every dispensation has its leaders who are used by God to shape the path and walk of the people and it is not surprising that Reverend Eastood Anaba continues to lead God's people into breaking free from their challenges'', the CCC leader posited.
NATION BUILDING:
Reverend Obeng asked for support for the NPP government so as to enable them put into action all the things it promised to do for Ghanaians before the 2016 elections.
Governance, the CCC leader stressed is not an easy task and asked people to offer prayers for the President and his appointees to chart a good course aimed at creating prosperity for all.
He noted the President has good intentions for the people of Ghana but cautioned him against sycophants who give him wrong information about the real economic situation on the ground.
''I urge the President to be watchful and do what he knows is right for the people of Ghana so that citizens can live happy lives in a peaceful atmosphere'', Reverend Obeng reiterated.
What do you think about this piece? Share your comment in the comment thread and share the story using the social media buttons above. Thank you.