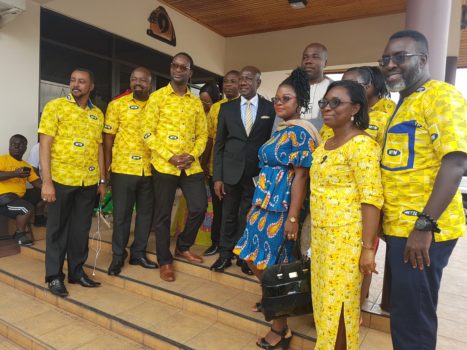 Ghana Business News-Juabenhene has praised MTN for the pace at which the telco has been developed to better serve the people of Ghana.
Nana Otuo Siriboe was excited that Otumfuo's advice and push for a Ghanaian CEO has paid off.
He was speaking on behalf of Asantehene Otumfuo Osei Tutu II at the Manhyia palace when the new Chief Executive Officer of MTN Mr. Selorm Adadevor paid a courtesy call on the Asantehene.
Nana Otuo Siriboe also praised former CEO Mr. Ebenezer Twum Asante for his significant contribution to the development of MTN and encouraged Mr. Adadevor to grow the telco even further.
He also used the opportunity to appreciate MTN's generosity to the palace.
For his part, the New CEO expressed excitement at the opportunity to visit the Asantehene before starting official business.
He used the opportunity to also caution customers to be on the lookout for fraudsters.
The CEO stated emphatically that the only contact MTN uses to call its customers is 0244 300 000 and urged them to ignore any other number that claims to be calling from MTN.
He says if customers take note of this number and ignore fraudulent calls and text messages, fraud will be significantly minimized.
He was thankful to the people of the Ashanti region for their patronage of the network and its products and stated that the Ashanti region remains one of the significant
What do you think about this piece? Share your comment in the comment thread and share the story using the social media buttons above. Thank you.