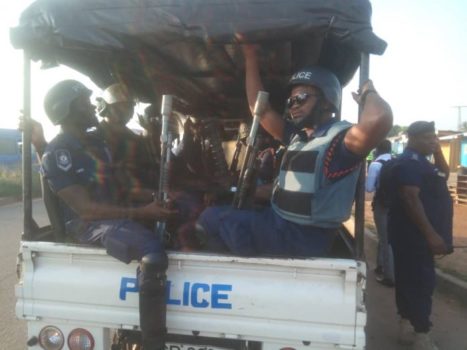 Seven persons have been arrested by the police in the northern region in connection with Tuesday's violence in Salaga that resulted in the burning down of the NPP constituency party office and some party billboards.
The suspects were picked up in the early hours of Wednesday, 13/02/19 at Salaga upon intelligence, to assist in further investigations.
Police in the region are investigating the matter and the process of identifying and arresting more suspects is currently underway.
On 12/02/19 at about 5.30 pm a section of the youth in Salaga went on rampage and set the NPP constituency party office ablaze and pulled down party billboards in protest against the naming of Damongo as the capital of the Savannah region by the President.
Police moved in and succeeded in preventing the youth from burning down the District Assembly building as well as the DCE's bungalow and dispersed the crowd.
Police has managed to bring the situation under control and police reinforcement has been sent to Salaga from Tamale to help control the situation further.
Suspects were quickly identified and seven of them subsequently arrested.
The Northern Regional Police Public Relations Officer, DSP Yusuf Mohammed Tanko, who spoke to ghanagong.com's Nana Yaw Ofori, urged the people of Salaga to remain calm and not to take the law into their hands and help in identifying more suspects.
The police, Mr. Tanko added that persons found disturbing the peace will be dealt with decisively.
What do you think about this piece? Share your comment in the comment thread and share the story using the social media buttons above. You may reach the editor on 0249579664.  Thank you.