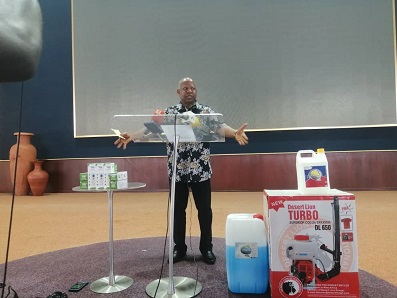 The Calvary Charismatic Center (CCC) will begin offering training to pastors of all churches from Monday on how to ensure compliance with COVID-19 protocols in their churches.
General Overseer of the CCC; Pastor Ransford Obeng who announced this to media personnel in Kumasi said it is important for all churches to prove to the government that they are ready for the ban one gatherings in church to be lifted.
He took the media around his church and demonstrated how every single protocol was being catered for to ensure that no one contracts COVID-19 from his church.
He showed special hand sanitizers, gun thermometers, face masks, gloves, and hand washing apparatus etc in huge quantities to express their readiness.
He also explained how the seating arrangement of the church which has a seating capacity of 3000 has been spaced out to contain only 400 people at a time. He said a number of services will be held on Saturday and Sunday to enable as many people worship as possible. He also explained how seats are numbered and their occupants entered into a database to make contact tracing easy in case of any infection.
Pastor Ransford demonstrated how the presence of medical practitioners will make it easy to detect any signs of the condition among members and deal with it.
He announced that there will be no services for children since they will not be in a position to observe the measures and said there will be study materials made available for them through their parents to keep them abreast with teachings
Pastor Ransford indicated that with these measures, the church was far safer to be in than the market or the various workplaces and encouraged other churches to put in place similar measures to keep their congregants safe and also convince the government of the church's readiness to return and discharge their services to the nation.
He advised the government not to encourage "wholesale" opening of all churches but rather set up a team to ensure the churches have put in place the needed measures before allowing them to open.
He also encouraged colleague pastors to endeavor to come for the training sessions he will be organizing on Monday. He said the training sessions will be hourly and will run for most part of the day.