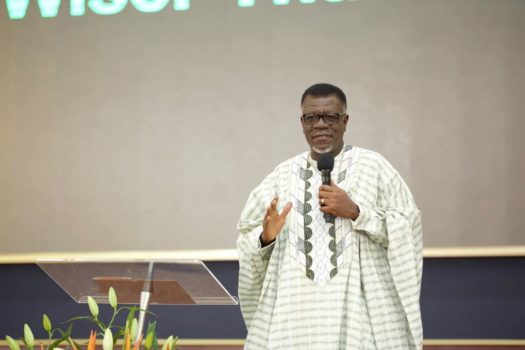 The General Overseer of the International Central Gospel Church (ICGC), Reverend Dr Mensa Otabil says the delight of God is to see human beings succeed in the things they do in life.
According to the famous gospel preacher, nothing excites God than to see his children bear fruit in their chosen fields of endeavor.
He, however, noted that God is displeased when man whom he created ascribes the successes they chalk or proficiency to anything else apart from His grace.
Addressing congregants at Calvary Charismatic Center (CCC) in Kumasi over the weekend during the church's spiritual empowerment program, Dr Otabil said God desires that man gives him glory in every good thing that is achieved.
''It is not because we are deserving of anything that we excel in what we do but God desires that we as humans give him glory about any good thing we achieve in life since the very breath in us comes from him'', the famous preacher posited.
HOW GOD RATES US:
Teaching about the way angels operate in the universe, Dr Otabil noted angels are expressly messengers of God.
According to God's servant, angels do not necessarily possess wings or scary natures to cause fear in humans since they from the account of the Holy Bible appeared in the form of men to all those they were sent to.
Recounting the visitation Mary, the mother of Jesus had with an angel before his birth, Dr Otabil stressed Mary did not exclaim or sound fearful at the sight of the angel but only pleaded that God make do what his angel had promised her.
The Chancellor of the first private university, Central University, urged Christians not to be swayed by the false doctrine being churned out by some preachers aimed to cause fear in people.
''Angels are messengers of God and they come to us to convey the thoughts of God to us but never to scare us or come to us with wings'', the Living Word preacher argued.
SACRIFICE OF CHRIST:
Teaching on the sacrifice Christ Jesus made on the cross of Calvary, Dr Otabil noted the act was to ensure no one stays or lives with a curse.
According to him, God put the curse of mankind on Christ Jesus by allowing him to die as a common criminal so that everyone who may ever find himself in a debasing condition could still come to God through Christ Jesus.
Dr Otabil said in the Jewish as well as the Greek custom, anyone who died as a result of being crucified on a cross was accounted as a cursed person.
Therefore, he posited that Christ Jesus took the place of mankind so that he could be able to redeem any of us who may sin or commit the worst form of sin.
''It is therefore a diminishing of your value to call yourself outcast when the Lord Jesus has paid the penalty of sin on the cross of Calvary for everyone who desires to have him as Lord and Savior'', the ICGC leader stressed passionately.
What do you think about this piece? Share your comment in the comment thread and share the story using the social media buttons above. You may reach the editor on 0249579664.  Thank you.