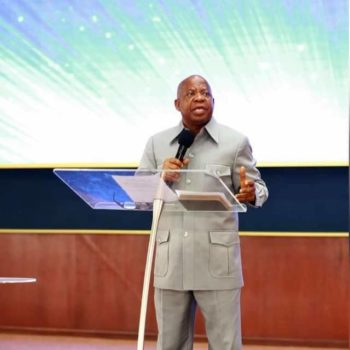 The General Overseer of Calvary Charismatic Center (CCC), Reverend Ransford Obeng says Christians have every cause to be hopeful for the year 2019.
According to him, the Bible enjoins believers to be hopeful of the future no matter any present challenge or difficulty they may be facing.
This, he noted is because the God they serve is able turn difficult and challenging situations around.
Speaking to the media during an end of year service in Kumasi, Rev Obeng said God promises a better future and a hope for his children.
''If you ask me a thousand times I will say I am hopeful for 2019 and I know it will be a good year for those whose confidence is in God'', ReverendObeng positively posited.
PROPHECIES:
The CCC leader urged Christians not to be worried about the future or any negative prophecies anyone may have given them.
This, he noted is because the God who created the universe is able to turn the predictions of man into a positive story.
Rev Obeng, mincing no words said God specializes in turning bad situations around for his glory to be revealed.
He stressed prophecies are not to scare people but rather draw them to God, adding the Almighty only reveal things in part to his servants since he alone has the whole picture.
''I cannot emphasize enough that we should not be lazy Christians for us to be taken for a ride because we have opportunity to look through every prophecy in the word of God to authenticate it'', the CCC Leader passionately stressed.
SERMON:
Preaching the main sermon earlier, Rev Obeng said God has a purpose for everyone he has created on the face of health as the scripture says in Jeremiah 29 verse 11.
He, however, stressed the best way of discovering one's purpose is for that individual to accept Jesus Christ as Lord and Savior of his or her life.
Likening life as a journey, Reverend Obeng stressed that there were two final destinations men could arrive at after life on earth and that is heaven or hell.
According to him, each one could be at one of these places depending on the choice one made to either live for God and be in Heaven or live a morally degrading life and end up in hell.
''The best way to discover your purpose in life is to allow Christ Jesus to be the Lord of it as he is the only one who has traveled the road of life and death and is equipped with all the keys to living a fulfilled life'', Rev Obeng taught.
What do you think about this piece? Share your comment in the comment thread and share the story using the social media buttons above. You may reach the editor on 0249579664.  Thank you.