FRANCIS NANA YAW BOAKYE (DR) is a Medical Doctor with the Komfo Anokye Teaching Hospital in Kumasi.
Beside his consulting room work, Dr. Nana Yaw Boakye takes great delight in providing healthcare for many. He is known to personally pick residents of his area who are sick but needy to the hospital for treatment and/or buying them appropriate medications for their treatment. He is also known to have organized mass health screening activities for people within the Asokwa and Atonsu area of Kumasi where he is located.
He believes strongly that young men and women have to take up the responsibility of developing the country, starting from their own corners wherever they are in the country.
This belief pushed him to single-handedly rebuild a classroom block that was destroyed by rainstorm and left to waste away for close to two years.
He says though he does not have much, he sees himself doing great things for his community and the people that live there. It is not surprising that he is greatly loved by the people of Asokwa and its surroundings.
He hints that he is also considering a dive into active politics since he believes he will make impact on a greater scale through politics. He is a staunch member of the ruling New Patriotic Party (NPP).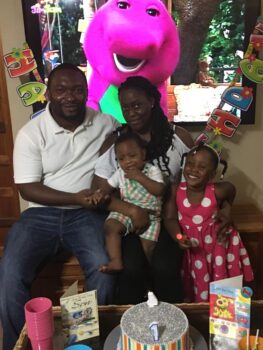 The young Doctor is married with 3 kids.
He is a strong Christian who worships at the Calvary Charismatic Center (CCC) in Kumasi.
After having his early education in Germany, he was brought to Ghana where he had his Junior Secondary School Education at Morning Star Junior Secondary School in Accra from where he proceeded to Achimota Senior Secondary School. He began his medical school education in 2000 at the Kwame Nkrumah University of Science and Technology (KNUST). He completed his medical programme in 2010. He has had medical experiences in London and various parts of Ghana.
Dr. Nana Yaw Boakye speaks Akan, English and German. He plays soccer, basketball and swims.
What do you think about this piece? Share your comment in the comment thread and share the story using the social media buttons above. You may reach the editor on 0249579664.  Thank you.