An Asokwa Constituency Secretary hopeful, Papa Yaw Asare-Bediako John has promised to do all he can to make the administrative functions of his office open to all when given the nod in next week's election in Asokwa.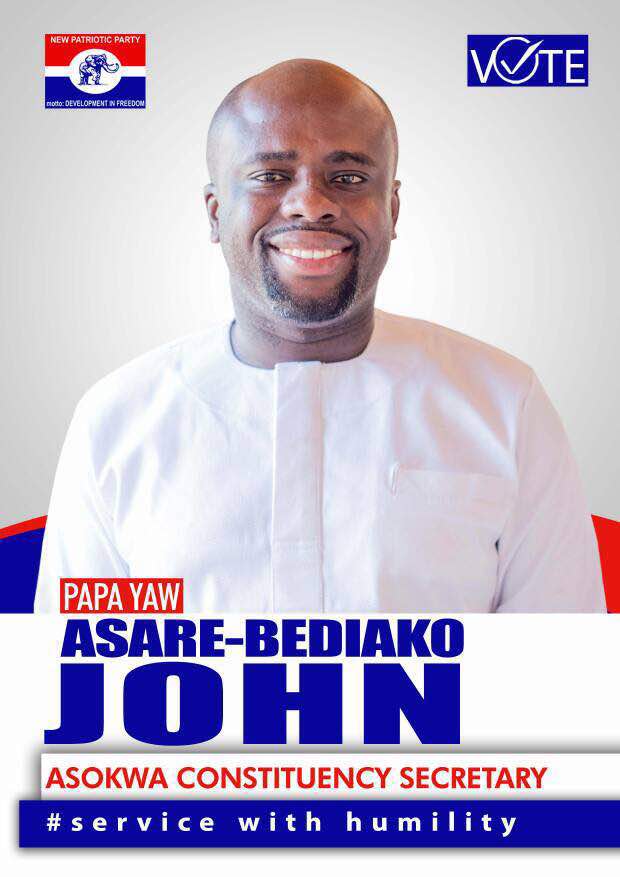 He says the time has come for the office of the secretary to be made open to all manner of persons in the constituencies of the country.
Speaking to Ghanaian Observer Newspaper moments after filing his nomination papers at the constituency office in Ahensan, a suburb in the Kumasi Metropolis, Papa Yaw indicated his readiness to make his office as transparent and accessible as he can.
This, he noted informs his decision to operate a servant-leadership administration where everyone's views will be welcomed.
''I avail myself to serve with humility and the filing of my nomination this day affirms my decision to serve as I have promised'', Papa Yaw stressed with passion.
PLEDGE:
The youthful aspirant pledged to promote polling station meetings periodically in the branches and wards of the constituency.
This, he noted will engender cohesion and fellow feeling among members and executives as the party prepares for the upcoming elections in 2020.
He pledged to publicly recognize both polling and constituency executives for their hard work so as to encourage other members to work hard for the party.
The aspirant promised to ensure swift flow of information within the party executives and members so as to enable members to become abreast with party activities.
''I am committed to ensuring that members are kept abreast with activities and happenings in the party so as to help us plan and execute our programs smoothly'', the constituency hopeful posited.
REGIONAL EXECUTIVE:
Accepting the nomination forms, Daniel Agyenim Boateng, acting regional organizer of the Ashanti NPP wished the aspirant well.
Mr Boateng advised the aspirant to continue to conduct his campaign as peaceful as it has been.
He urged other aspirants who are contesting for other positions to conduct their campaigns with decency and decorum so at to help the party stay united even after next week's constituency elections.
By: Michael Ofosu-Afriyie