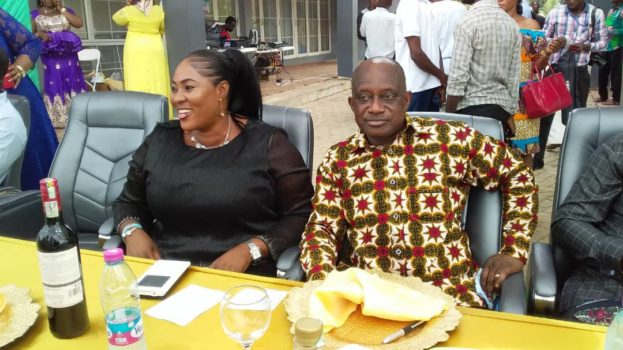 The Ashanti Regional Women's Organizer, Nana Ama Ampomah has stated that the NPP as well as its women's wing is committed to ensuring queen mothers in the country are well catered for by government.
According to her, queen-mothers play crucial roles in ensuring stability in the palaces as well as most communities in the country.
The wise counsel most of them give to chiefs, Madam Ampomah noted has greatly ensured peace and harmony in most of the communities in the country.
Speaking to the Ghanaian Observer Newspaper after partaking in a dinner organized by the Association Queen-mothers in paramount traditional councils in Kumasi, Madam Ampomah said the women's wing would continue to provide support for the queens.
''My brother, if women are considered home managers then Queen mothers can equally be called Palace managers and so it is important that their welfare is given utmost priority by the NPP party and its women's wing'', Madam Ampomah stressed.
REGIONAL MINISTER:
Speaking at the occasion, Simon Osei Mensah, Ashanti Regional Minister assured the Queen-mothers of government's support and encouraged them to partner with their respective chiefs to develop their localities.
He said as custodians of customs and culture, the traditional authorities in the country were essential partners in development.
The NPP, the regional minister noted was carrying out massive road infrastructural projects this year, adding major roads in the region such as the Obuasi-Anwiankwanta, Asokwa-Bosomtwe roads as well as many others in the region will soon see construction works.
The one district one factory project, Mr Osei Mensah stressed would also be pursued this year so as to ensure people in the districts have opportunity to get permanent jobs.
''The Nana Addo government is committed to carrying out the transformational agenda it promised and starting this year all the road infrastructure that has been earmarked will see the light of day and already Bekwai-Anwiankwanta, Asokwa Bosomtwe routes are starting'', Mr Mensah noted to rapturous applause.
MAMPONG QUEEN-MOTHER:
Speaking on behalf of the Queen-mothers, Nana Agyakoma Difie II, Mampong-hemaa and Chairperson of the Association of Queen-mothers thanked the Kumasi Mayor and the Regional Minister for the support they extended to her outfit for the dinner.
She also praised the efforts of the NPP Women's organizer in securing some support for the Association in organizing the dinner for its members.
Nana Difie welcomed the promise by government to develop the districts of the region.
This, she noted will bring relief to residents since it will provide them with opportunities to get jobs and also open up the hinterlands to business.
What do you think about this piece? Share your comment in the comment thread and share the story using the social media buttons above. You may reach the editor on 0249579664.  Thank you.