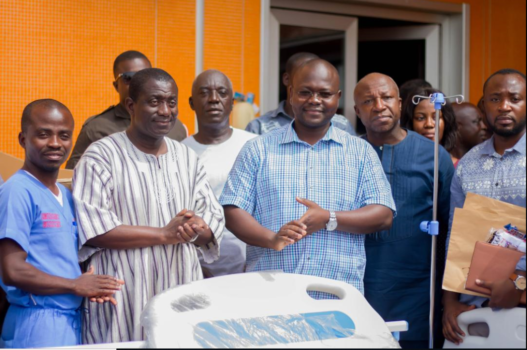 Deputy Chief of Staff of the Akufo Addo government, Mr. Francis Asenso-Boakye has called for a holistic approach to addressing the challenges in the country's health sector.
According to him, many of our hospitals, including Komfo Anokye Teaching Hospital lack the necessary logistics for quality health care delivery in the country.
The Deputy Chief of Staff said this on Saturday 29th October, 2018 when he personally donated 20 hospital beds to the Accident and Emergency unit at Komfo Anokye Teaching Hospital in Kumasi
He believes this gesture will help reduce the incidence of no bed syndrome in some hospitals and health centers in the country.
The issue of "no bed" syndrome has become a national concern which is undermining quality health care for all, hence, the need for all to support the call to end it in the country.
Some patients are rejected by big hospitals due to inadequate beds at the facility.
Mr. Asenso-Boakye further observed that, individual contribution towards health care delivery is enormous, but his government is working assiduously to address the major challenges undermining quality care delivery of her citizenry.
"As we speak the government has tasked the health ministry to act swiftly in order to resolve all major challenges these hospitals are confronted with" he said.
With the ever increasing population of Ghana, there is always the need to ensure sufficient health care facilities for the people.
The Deputy Chief of Staff assured that the NPP government is taking giant steps to address health challenges facing Ghanaians.
He also hoped that the donation will go a long way to improve essential services at the emergency unit and promised to continually offer the needed support towards improving the lives of patients at the various health centers in the country.
What do you think about this piece? Share your comment in the comment thread and share the story using the social media buttons above. You may reach the editor on 0249579664.  Thank you.