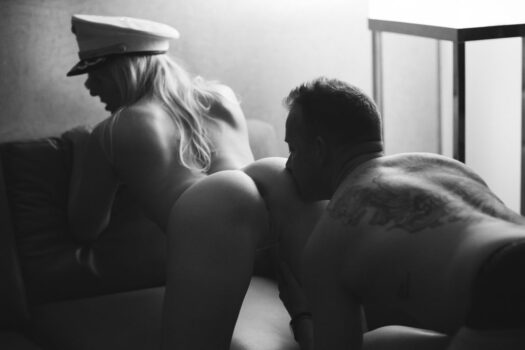 The alarm on my phone woke me up and I headed straight into the shower to freshen up and prepare for my seminar. I stole a glance at Rhoda and realized she was awake watching me as I dressed up. "Is that how you are?" she asked, to which I responded; "what have I done?" She smiled and continued scanning my body with sleepy eyes.
The knock on the door disrupted the romantic tension that was beginning to build. Breakfast was ready. The paltry slice of bread and all that accompanied it was not going to cut it for me so I left it for her and planted a "see you later" kiss on her cheek. She held me by my neck and gave me a full kiss on my lips and repeated same whiles getting up. She sat on the edge of the bed and began to loosen my belt. "I don't want to be late" I complained in a confused manner. "THERE!" she exclaimed as it popped out of my briefs.
She clenched a fist around my bobbing dick and began to torment me with her tongue-starting from beneath the head and then lapping around the ring on the head. The excitement was building, my mouth was unconsciously agape. I held on to the chair behind me as I felt my legs begin to tremble. She suddenly took as much as she could of the whole package in her mouth. My eyes wanted to pop out at this stage. With three-quarters of my hard dick in her mouth, she began to massage my balls. I tried to pull out when I felt the sensation of seminal fluid movement but she held my naked butt and pulled me closer, giving the head of my penis a dribble with her tongue. I came and she took it gracefully, sucking as if she wanted some more cum. I was stunned. She cleaned me up and helped me pull up my trouser.
I dashed out and into the hotel conference room where from all indications I was already late but did not care much.
By lunch time, I was already bored. We had just been through a rigorous group work when my phone vibrated. "Damn!" it was Rhoda. She was teasing me with nude shots of herself and texting how she missed me already. I couldn't focus for the rest of the day.
I met her at the hotel's restaurant as soon as the seminar closed that day. We had a good meal and decided to find a club around and catch some fun that night.
She insisted I go out first, locate the perfect club and then text her the address. So I went scouting and located a nice place called Malady in one of the elite neighbourhoods in Accra.
Malady was ablaze with a fantastic mix of loud music, hot semi-nude ladies and half-drunk gorgeous looking guys. The lights blended it all together very well, creating the perfect blind spots for people who wanted to indulge in various sex acts or drugs out of the full glare of the dancing masses.
I settled in, got a drink and texted her the address and then began to enjoy the whole show. Wow… was this in Ghana? Looked like scenes lifted right out of a movie.
"Hey handsome", I turned around and could not believe my eyes. There stood a different looking Rhoda. How did she even locate me in this chaotic and dimly lit club? She was well packaged in "hot pants" and a bust hugging top with an afro. It was a lot to take in. She blended in perfectly.
She met me with a kiss the moment I turned around. Tonight is the night! She held me by the hand and pulled me up, leading me to the dance floor. Though I'm not much of a dancer, she made it very easy for me to get into the moment and enjoy. She would stoop and push her ass onto my dick and wiggle it in a manner that is difficult to describe, producing sensations that cannot be explained.
We danced and danced until she had to visit the ladies. It was past 1am. She came back and whispered in my ears to follow her. She whisked me away before I could protest. She dragged me to one of the numerous washrooms. I was shocked and confused. She locked the door from inside and pushed me against the wall. She yanked my belt open and had my penis in her hands within seconds. After a short session of intriguing blowjob, she slid her pants to her knees and turned her back to me, stooping for the obvious. I was trembling with fear and excitement at the same time.
She was already wet and that suppressed moan during the first thrust was priceless. She began to push back as if to say I wasn't thrusting fast enough. She took control and effectively raised the frequency and intensity of the action. She was moaning loudly and I was breathing heavily. We were both ecstatic. Cum inside me she ordered just as I was about to pull out.
We got back to the hotel around 3am, showered and went to bed holding each other tight and not saying much.
We woke up some minutes after nine and watched TV until we could no longer bear the hunger. We were content just lying in each other's embrace. We had to return to Kumasi. How I wished this weekend stretched on forever.
What do you think about this piece? Share your comment in the comment thread and share the story using the social media buttons above. You may reach the editor on 0249579664.  Thank you.