Whenever the bell of sex toys is rang, the first thing that comes to mind is masturbation A.K.A. wank.
This is 2021 and a sex toy is so much more than just a tool to help you pleasure yourself. Honestly, it is wonderful to use for some alone pleasurable moments but have you tried using it with your partner for that mind-blowing sex you have been dreaming about? Yes, it can get awkward on the first try just like everything else but as soon as you both get comfortable enough, the awkwardness will definitely fade away, trust me on that.
Don't worry this is me not diving into BDSM but just giving vanilla sex extra points (maybe I should write about what vanilla sex and BDSM is all about).
To my dear sexually active ladies and gentlemen, here are five(5) sex toys you can use to take your sexual experience to a whole new level:
Finger Vibrator
Finger Vibrator is an easy way to take simple foreplay to the next level. You just have to wear the electronic band on your wrist and place the touch-points on your fingertips and add a dab of lube and get to business.
You can use this device on your partner's breast, thighs, butt and their vagina or penis. This device gives you a sensation with every single flick or touch.
Vibrating Cock Ring
This toy is worn on a man's penis and the tiny vibrator stimulates the lady's clitoris which helps the lady to climax more intensely, as well as giving the man exciting vibrations and more hardened erection. At the end of it, both partners are happy. The good news is some condoms come with penis ring vibrator which last up to 20 minutes or you can get yourself a rechargeable cock ring.
Couples Vibrator
This sex toy is specifically designed for couples even though it can be used solely. It is worn by the woman in order to help both her and the partner to have more fun in the bedroom. Some part of it goes inside the lady alongside his penis, it rotates as it vibrates and the other part remains outside where it stimulates the clitoris and his penis, plus it comes along with a wireless controller.
It also ensures both partners achieve their climaxes in unison.
Penis Sleeve
Well I am not talking about a dick wearing sleeve, if you are wondering…Lol. Have you heard or tried Grapefruiting? If yes, well we are replacing the grapefruit from your kitchen to one of the world's most amazing sex toys produced for men. This toy can be used solo and can be used with your partner as well. Time to give him the best hand job of his life, lube it up, slip it on, and then stroke, stroke, stroke and enjoy every bit of the moment.
Kegel Balls
I can say thanks to Fifty Shades, this baby is not only known for strengthening the pelvic floor muscles, preventing vaginal prolapse and improving bladder control but can also be used as a sex toy.
The lady should slip them into her vagina during foreplay while she's pleasuring the man, to make sure she is getting just as much fun out of it as he does, whenever she moves, the balls create a gentle vibration which gives her a sensational feeling. Don't forget to apply lubricant when inserting, plus some come with a remote controller, now give the controller to your partner for him to have the ultimate power over your pleasure.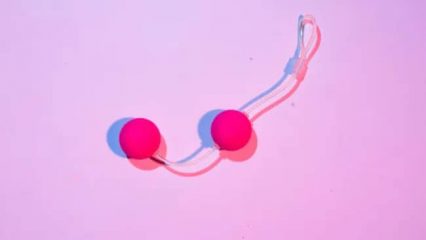 Bonus point because why not…Lol.
Sex Dice
I honestly don't know whether to call this a sex toy or a game, either way, it is one of my personal favorite sexual item. The sex dice is perfect for kick-starting foreplay.
On one die, each face displays the name of a body part and on the other die sensual commands are displayed.
When the dice is rolled, the body parts and sensual commands collide to create exciting and intimate experience. Now roll and play.
Remember bringing a sex toy into partner play for the first time can be a bit intimidating, especially in our part of the world(Ghana). If you are not sure how your partner might react, please have a conversation about it, and make a decision based on the conversation. Don't worry if they don't like the idea of a sex toy, there are many other ways of exploring and being intimate together.