As ladies, wardrobe has a lot of essential items which defines their style or test in fashion. This article is not looking at how many shoes a lady must have in their wardrobe or on their shoe rack, It is looking at what basic essential shoes a lady must have in her wardrobe.
An essential part of making a fashionable statement is shoes.
Shoes are said to be the second best friend of a lady since diamonds take the first place, debatable.
It does not matter how young, old, free-spending, or thrifty you are. These 6 shoe styles are essential for every lady, from comfy slippers to statement heels.
Ballet Flat
Looking for comfort yet stylish footwear to face a hectic day, well ballet flat is just the thing to depend on. It can be worn throughout the day and is suitable for most occasion. The good news is, it never goes out of style. Always perfect. Color preference solely depends on the individual.
Black / Nude Pumps
Every lady likes to look sophisticated once a while, simple but classic black/nude pumps can help you achieve that look. You can wear them with dresses, jeans, shorts, and practically anything in your wardrobe.  They are suitable for every occasion, from office to red carpet, they have you sorted. Plus, black and nude match with anything in your wardrobe.
Flat Sandal
They are perfect for casual days and when you have to run around. They are comfortable to wear and word on the street is they are inexpensive. They are basic so they tend to let your outfit do the talking, since they are mostly basic pay attention to details that brings them to life when buying them. I personally call them trusty.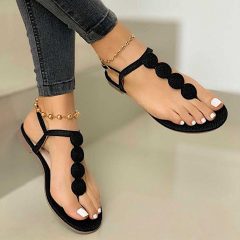 Ankle-Strap Sandal Heel
A pair of ankle-strap sandal heel will make your feet look sexy and is comfortable to wear as well. This style of footwear matches with anything from casual to official and still nail the look. Consider the ankle-strap sandals a go-to for almost any occasion. They are timeless. I personally will go for a black ankle-strap sandal heel.
White Sneakers
Sneakers are currently one of the top major trends right now, from everyday Instagram looks to red carpet events. A white sneaker is a must have for a lady's wardrobe since it can be paired with anything. A pair of sneakers is worth investing in.  It is comfortable and it gives you a chic laid-back look. I personally will prefer a black sneaker to a white sneaker.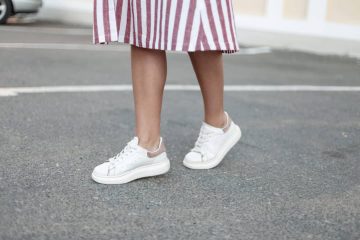 Slippers
Stepping out to get something from the supermarket across the street or visiting the beach, well slippers is your go to footwear. They are not just simple and comfortable but they are stylish.  They can be in heels or flat, which ever style your prefer. I personally will go wild with the colors.
These mentioned shoe types are relatively small in number but they will get you through all seasons and will make you look fashionable all year round. Go to your wardrobe and check if you have them all, if not go shopping.